As we promised a few days ago, we have another great challenge for you today to continue with our first ever Online Crop! If you missed our first challenge by
Lisa
, please click
HERE
to take you to play a great game of Bingo. Today's crop challenge is based on one of the oldest holiday baking traditions, fruit cake! Whether you have a love or hate relationship with fruitcake, we are sure to help you love it a little more with your crafting! Please create a brand new layout, card or altered item based on the Holiday Fruitcake Recipe Challenge below.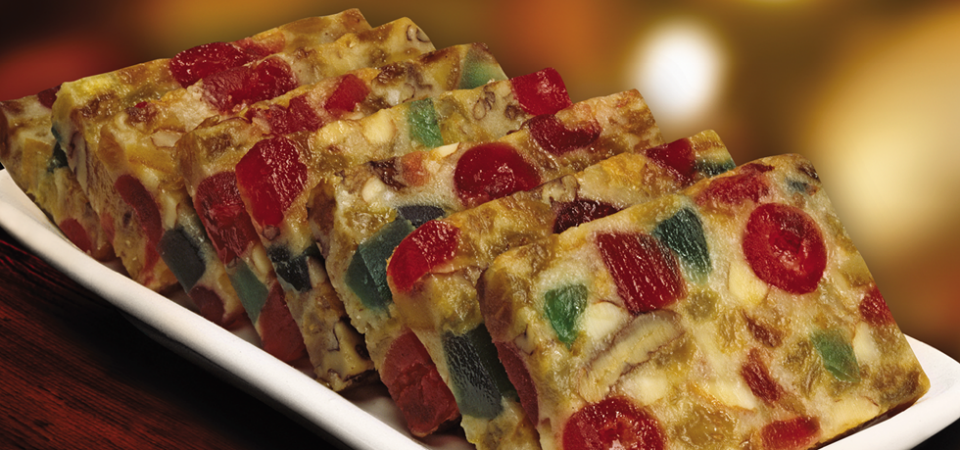 Photo courtesy of claxtonfruitcake.com
Holiday Fruitcake Recipe Challenge
(Pick 4 ingredients for your layout):
Red and green candied cherries – choose the color red or green
Candied pineapple – choose the color yellow or gold
Walnuts – use wood veneers or woodgrain papers, etc.
Raisins – use something sweet (the word Sweet, food related items or photos, etc.)
Sugar – use sprinkles of round embellishments in any color (brads, buttons, confetti, etc)
Eggs – use some form of ribbon as a binding agent
Vanilla – use any type of liquid medium (can be ice or snow related photos, spritz, paints, etc)
Flour - Use any white embellishment (clouds, flowers, doilies, snowflakes, etc.)
And here is my example:
I went simple and still used 5 of the ingredients! I used red cherries (color red), candied pineapple (color yellow), walnuts (wood venners), sugar (round confetti), and eggs (ribbon trim). I can't wait to see what you create! :)
Rules of the Holiday Fruitcake Recipe Challenge:
1) Feel free to use other items on your layout as well. For instance, if you choose green as a color choice, other colors are welcome but please be sure to showcase the green as much as possible.
2) Also, in your link back to your blog post, make sure you mention the 4 ingredients you chose to use.
3) all projects must be newly created as of today for this challenge (no back linking)
4) no combining with other SNS challenges (i.e. our regular sketch challenges)
5) You must link back to SNS in your blog entry
6) only one entry per challenge
Here are the prizes up for grabs:
Indie Chic chipboard stickers:
AND
Indie Chic Citron layered stickers:
You will get one entry per challenge into our prize draw, a random winner will be drawn on
December 22nd.
To be eligible follow all the rules listed above AND make sure and link up your project on the sidebar under the
ONLINE CROP
link (not the regular sketches link). We can't wait for you to join us! Happy cropping!